Tell Rexall Customer Survey:
To continue to provide convenient, quality healthcare and products, customer feedback is very important. So, Rexall welcomes the recent visitors to Tell Rexall Customer Survey and share their experience with Rexall based on that last visit. The feedback and information, Rexall will receive through this survey help them to provide exceptional patient care and customer service across Canada. In return, you will receive a discount for your next Rexall purchase at the end of the survey. Added to this, you will also get an opportunity to enter a drawing for ten chances to win cash prizes.
Tell Rexall Customer Survey Reward:
A coupon to get $5 off your next $25 minimum retail purchase at a participating Rexall store
Also, receive an instant entry into a prize drawing contest for 10 chances to win $1000 cash. The cash prizes are available to be won daily.
Rexall Customer Survey & Sweepstakes Contest Rules & Requirements:
To participate in the Tell Rexall Customer Satisfaction Sweepstakes to get the discount on your next Rexall purchase after the survey, you
Must be a legal Canadian resident and Rexall customer.

Your age should be at least 18 years or over or at the age of majority in your state or province.

You or your immediate family or household members must not be employed in Rexall Pharmacy Group Ltd, its parents, subsidiaries, InMoment, Empathica Inc., and their associated companies.

Visit a participating Rexall store lately

Make a qualifying purchase at that location and receive a survey invitation on the receipt.
How to Complete Rexall Customer Survey & Enter the Contest Online:
Tell Rexall Customer Survey is a set of a questionnaire regarding Rexall products and services that you experienced on your latest shopping. It takes no longer than 10 minutes to complete over the web. To initiate the procedure, keep your Rexall survey invitation handy and
Visit the Tell Rexall Customer Survey website at www.tellrexall.ca.

Enter the Total Amount Spent, Date of Visit, Time of Visit, and the Survey Entry Code in their fields from your Rexall Survey Invitation receipt as shown on the sample receipt image provided on the right of the page. It will ensure that your feedback reaches the manager of the Rexall location you visited.

Click on the "ENTER" button and then "NEXT".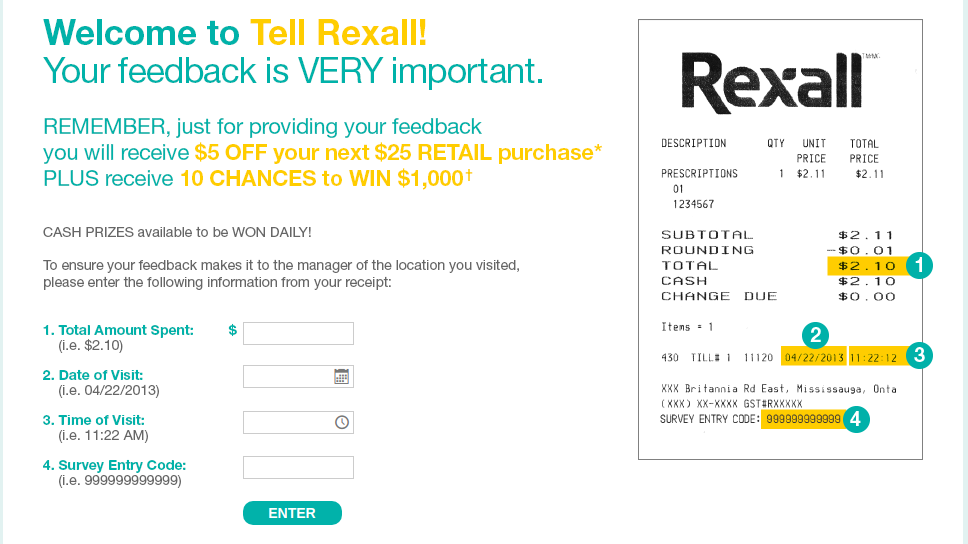 Select the areas of the store you browsed or shopped at during that visit.

Answer a few questions about the Rexall store you received the survey invitation.

Rate your satisfaction, likelihood, recommendation

Once you finish the survey, select the "Yes" option in both cases to avail of both the offers.

Submit your contact information i.e. first name, last name, telephone number, and email address, and continue to enter the contest.
In the end, you will be entered into the sweepstakes to receive 10 chances to win $1000 daily and the $5 coupon for your next $25 purchases at Rexall.
Phone or SMS Survey:
If your Rexall Survey Invitation receipt shows any specific phone or SMS number for the survey, you can call or test it to complete your Tell Rexall Survey. Provide the required information from your Rexall receipt to access the survey following the instructions. In the end, you will have the option to register your sweepstakes entry and receive the coupon of $5 off.
Rexall Customer Survey Sweepstakes Mail-In Entry:
If you do not have a valid Tell Rexall Survey invitation receipt, you can enter the sweepstakes by mail. In this altername method, you do not need to complete any survey.
In the Mail-In Entry participation, you have to send a Sweepstakes entry request. To do it write the sentence "Please enter me in the Empathica Daily Sweepstakes for a chance to win one Daily Prize" on a blank paper. Include your first name, last name, home telephone number, full address (No PO Box), and email address. Place it in an envelope and mail with sufficient postage to the address below.
(Enter Month/Year) Mail-In Entry
C/O Empathica Daily/Weekly Sweepstakes
C/O Rexall
2121 Argentia Road, Suite 200
Mississauga, Ontario, Canada
L5N 2X4
Also Read : Participate in Five Guys Customer Survey
Important Info about Tell Rexall Survey & Sweepstakes:
Tell Rexall Customer Survey offer is limited to 4 entries per household every 30 days.

The mail-in entrants can only enter into the $1000 daily sweepstakes. They are not eligible for the $5 discount coupon.

The selected winners will be contacted by telephone or email to claim the prize.
The prizes will be awarded in the form of a cheque or money order

To see the full sweepstakes rules go to www.tellrexall.ca/websurvey/2/rules/53. Or click the 'Terms & Conditions' link provided below the Tell Rexall Survey Page.
About Rexall:
Rexall, a part of the Rexall Pharmacy Group Ltd, is the second-largest retail pharmacy chain in Canada with more than 450 locations. The company was established in 1904 and eventually becomes a major chain in retail pharmacies in the country. Rexall is a wholly-owned subsidiary of McKesson Corporation that purchased the chain from its previous parent, Katz Group of Companies in2016. The company runs the business under the name of Rexall and Rexall Pharma Plus. And also operates Rexall Direct, Canada's national home delivery mail-order pharmacy, and Rexall Health Solution.
Contact Information:
Rexall Customer Service Toll-Free Phone Number: 1-877-378-4100
Rexall Support Center General Inquiries Phone Number: 1-866-323-9695
Mailing Address:
Rexall Pharmacy Group Ltd.
5965 Coopers Avenue
Mississauga, ON L4Z 1R9
Reference :
www.tellrexall.ca/websurvey/2/rules/53